info
marinetoalpine.com
+91 973 353 3000
Visit
North East
North East India Tourism & Travel Information
Alkananda Resort - Kalimpong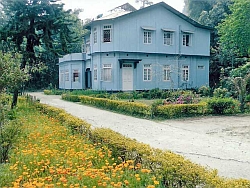 Alkananda Resort is synonymous with "Home Away from Home" stay. The resort is best known for its beautiful location facing the magnificient Mt.Kanchendzonga and its green surroundings. It is located in posh area of Kalimpong town and takes hardly 5 (Five) minutes to reach by taxi. By virtue of its vantage point location, it is free from air and noise pollution. On a clear day, the majestic Mt.Kanchendzonga and its sister peaks are clearly visible from the lawn and one can enjoy the beautiful sight of the sunrise with a hot cup of Darjeeling / Sikkim tea.
Many visitors to this place have emphatically felt that Alkananda Resort is an ideal place for peace and tranquility, relaxation and rejuvenation. We however, humbly say that unless one actually visits this place, it may be an exaggeration of sort, as the saying goes "Seeing is believing" .So you are welcome to see and experiment for yourself.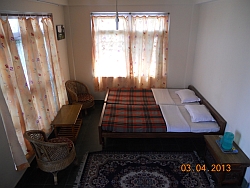 Facilities
Fresh Indian and Chinese food are prepared on order.
Transport for local sightseeing.
Transport for Airport, Rail head and vice versa.
We organize rafting. Gliding, swimming, picnicking etc.
We also organize cultural programmes on nominal rates.
Car parking.
Laundry.
This place is also called as the 'queen of the hills'. This place is invariably a paradise for nature lovers and adventure seekers.
Kaziranga National Park is a Oldest and the most famous sanctuary in Assam bounded by the Brahmaputra river and the Mikir hills in the Golaghat...
Sundarban spreading over an area of 4, 120 square kilometers including water was measured to be 16,000 square kilometers some 200 years ago
Welcome to Visit North East North East Part of India is a travellers delight. North East India consists Indian states of Assam, Manipur, Meghalaya, Mizoram, Nagaland, Tripura, Arunachal Pradesh, Sikkim & West Bengal. Although West Bengal is officialy is not a part of North East India, but is the gateway of accessing Read More
Nathu La Nathu La pass is situated around 60 kilometers from Gangtok at an altitude of 4,310 meters / 14,140 feet. The road to Nathu La passes through the Tsomgo Lake is nearly 2 hours drive. The terms 'Nathu' and 'La' literally mean listening ears and pass respectively in Tibetan language. In 1961, Read More
Tsomgo Lake Tsomgo Lake or Changu Lake is famous tourist an attraction in Sikkim is nearly 42 kilometers from the state capital Gangtok. It is situated at an altitude of nearly 3780 meters / 12,400 feet. The Lake known as The Source of the Lake in Bhutia dialect is ideally located near the Nathu La pass. The lake Read More
Out Standing hotel Prices
Book Through us
Call for Assistance
+91 973 353 3000
Mail us at
infomarinetoalpine.com
All Rights Reserved
[Visit North East]
. Best viewed with Google Chrome in 1024x768 pixels or above resolution.