info
marinetoalpine.com
+91 973 353 3000
Visit
North East
North East India Tourism & Travel Information
Gompu's Hotel, Kalimpong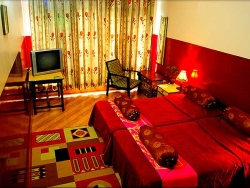 Gompu's hotel is one of the pioneers in hospitality business in Kalimpong, This establishment was started in the early nineteen hundred by Mr. Gompu Tshering, who was one of the early Tibetan settler in pre independent India. This establishment started as a confectionary and a boarding house before the 2nd world war and later became a popular bar & restaurant. From the early days, Gompus was patronized by the local gentry and during the war times it became a popular pub for the wounded soldiers from the Burmese front, who were brought to Kalimpong, Takdah and the neighbouring hills to recuperate in the pleasant climate of the sub-Himalayan region.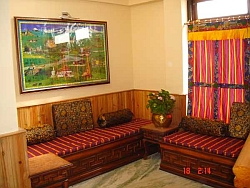 Gompu's, situated in the heart of Kalimpong town is one of the oldest business establishments in Kalimpong. It was founded around 1926 by the late Mr. Gompu Tshering.
Within a walking distance from the main bus station, this hotel is situated in the heart of the town, just next to the Damber Chowk, a prominent landmark in town, which was previously known as the Maharani Chowk, a Newari pagoda style monument constructed in the year 1904 by the people of Kalimpong to commemorate the crowning of Queen Victoria.
This place is also called as the 'queen of the hills'. This place is invariably a paradise for nature lovers and adventure seekers.
Kaziranga National Park is a Oldest and the most famous sanctuary in Assam bounded by the Brahmaputra river and the Mikir hills in the Golaghat...
Sundarban spreading over an area of 4, 120 square kilometers including water was measured to be 16,000 square kilometers some 200 years ago
Welcome to Visit North East North East Part of India is a travellers delight. North East India consists Indian states of Assam, Manipur, Meghalaya, Mizoram, Nagaland, Tripura, Arunachal Pradesh, Sikkim & West Bengal. Although West Bengal is officialy is not a part of North East India, but is the gateway of accessing Read More
Nathu La Nathu La pass is situated around 60 kilometers from Gangtok at an altitude of 4,310 meters / 14,140 feet. The road to Nathu La passes through the Tsomgo Lake is nearly 2 hours drive. The terms 'Nathu' and 'La' literally mean listening ears and pass respectively in Tibetan language. In 1961, Read More
Tsomgo Lake Tsomgo Lake or Changu Lake is famous tourist an attraction in Sikkim is nearly 42 kilometers from the state capital Gangtok. It is situated at an altitude of nearly 3780 meters / 12,400 feet. The Lake known as The Source of the Lake in Bhutia dialect is ideally located near the Nathu La pass. The lake Read More
Out Standing hotel Prices
Book Through us
Call for Assistance
+91 973 353 3000
Mail us at
infomarinetoalpine.com
All Rights Reserved
[Visit North East]
. Best viewed with Google Chrome in 1024x768 pixels or above resolution.