info
visitnortheast.com
+91 973 353 3000
Visit
North East
North East India Tourism & Travel Information
Hotel Anand Palace - Darjeeling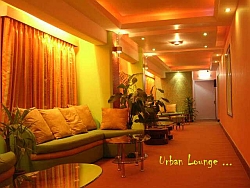 Capture the breathtaking view of the glistening Mt Kanchenjunga and rediscover the romance of a highlander's life, cozily tucked up in the soothing ambience of Hotel Anand Palace - where modern comforts and nature's serenity are in complete harmony in Darjeeling.
Situated in the heart of a quiet town, this hotel with three star facilities has easy access to all modern comforts and yet captures the charm of a "heritage" Darjeeling.
Lounge yourself at the Darjeeling Himalayan lobby and chug down through a "rural" world, as weary soul gets enraptured by the feel of a Himalayan village. You can even park your self at the roof top garden to see the Kanchenjunga towering over you.
If you miss your fast paced life, we also offer you an "urban" centric lobby, which captures the mood of an upwardly mobile life of the Hills. We do recommend that you pamper your gastronomical needs at our multi-cuisine restaurant "Chulah Chowka" before you head for the strobe lit "Once upon a time" to blast your stay away.
Facilities
Running hot and cold water
Television with satellite channel
Laundry and dry cleaning services
Currency exchange facility
Travel desk
Doctor on call
Standby generator
Multicuisine restaurant and bar
Credit card payment facility
High speed wi fi internet connectivity in public areas
Multi channel music in public areas
Safe deposit lockers
Direct dailing facility
Complimentary newspaper
Masseur on request
Baby sitting on request
Local guide on request
This place is also called as the 'queen of the hills'. This place is invariably a paradise for nature lovers and adventure seekers.
Kaziranga National Park is a Oldest and the most famous sanctuary in Assam bounded by the Brahmaputra river and the Mikir hills in the Golaghat...
Sundarban spreading over an area of 4, 120 square kilometers including water was measured to be 16,000 square kilometers some 200 years ago
Welcome to Visit North East North East Part of India is a travellers delight. North East India consists Indian states of Assam, Manipur, Meghalaya, Mizoram, Nagaland, Tripura, Arunachal Pradesh, Sikkim & West Bengal. Although West Bengal is officialy is not a part of North East India, but is the gateway of accessing Read More
Nathu La Nathu La pass is situated around 60 kilometers from Gangtok at an altitude of 4,310 meters / 14,140 feet. The road to Nathu La passes through the Tsomgo Lake is nearly 2 hours drive. The terms 'Nathu' and 'La' literally mean listening ears and pass respectively in Tibetan language. In 1961, Read More
Tsomgo Lake Tsomgo Lake or Changu Lake is famous tourist an attraction in Sikkim is nearly 42 kilometers from the state capital Gangtok. It is situated at an altitude of nearly 3780 meters / 12,400 feet. The Lake known as The Source of the Lake in Bhutia dialect is ideally located near the Nathu La pass. The lake Read More
Out Standing hotel Prices
Book Through us
Call for Assistance
+91 973 353 3000
Mail us at
infovisitnortheast.com
All Rights Reserved
[Visit North East]
. Best viewed with Google Chrome in 1024x768 pixels or above resolution.