info
visitnortheast.com
+91 973 353 3000
Visit
North East
North East India Tourism & Travel Information
Hotel Orchid, Lava

A serene misty in the Kalimpong sub division of Darjeeling district. "Lava" is a Bhutenese word "La" means " the lord" and "Va" means the presence .People believe that the flora and fauna of this region is the blessings of god.Till 1700A.D. the area was part of lepchas kingdom and was subsequently conquered by the Bhutanese situated at an altitude of 2100 metre lava presents landscape comprising the natural broad level forests dominated by the gigantic oaks with patches of coniferous forests, rich fauna comprising a diverse variety of birds, wild cats, wild boars, Himalayan black deers, deer etc.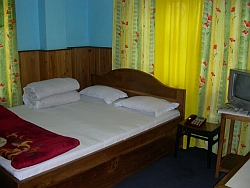 Hotel Orchid Lava is run by family members and friendly staffs. Hotel Orchid Lava is in the village at 2184 metres above sea level with a pleasant atmosphere surrounded with pine, juniper trees and dense forests. It is 5 storeyed building having 14 rooms with good view of Neora valley, Nathula range from all the rooms. Hotel has an in-house restaurant with Indian and Chinese foods.All the rooms are two beded and dormitory is 7 beded with all the facilities like Tv, water heater, intercom, attached bathroom and also accept credit card like visa, mastercard etc.
This place is also called as the 'queen of the hills'. This place is invariably a paradise for nature lovers and adventure seekers.
Kaziranga National Park is a Oldest and the most famous sanctuary in Assam bounded by the Brahmaputra river and the Mikir hills in the Golaghat...
Sundarban spreading over an area of 4, 120 square kilometers including water was measured to be 16,000 square kilometers some 200 years ago
Welcome to Visit North East North East Part of India is a travellers delight. North East India consists Indian states of Assam, Manipur, Meghalaya, Mizoram, Nagaland, Tripura, Arunachal Pradesh, Sikkim & West Bengal. Although West Bengal is officialy is not a part of North East India, but is the gateway of accessing Read More
Nathu La Nathu La pass is situated around 60 kilometers from Gangtok at an altitude of 4,310 meters / 14,140 feet. The road to Nathu La passes through the Tsomgo Lake is nearly 2 hours drive. The terms 'Nathu' and 'La' literally mean listening ears and pass respectively in Tibetan language. In 1961, Read More
Tsomgo Lake Tsomgo Lake or Changu Lake is famous tourist an attraction in Sikkim is nearly 42 kilometers from the state capital Gangtok. It is situated at an altitude of nearly 3780 meters / 12,400 feet. The Lake known as The Source of the Lake in Bhutia dialect is ideally located near the Nathu La pass. The lake Read More
Out Standing hotel Prices
Book Through us
Call for Assistance
+91 973 353 3000
Mail us at
infovisitnortheast.com
All Rights Reserved
[Visit North East]
. Best viewed with Google Chrome in 1024x768 pixels or above resolution.