info
marinetoalpine.com
+91 973 353 3000
Visit
North East
North East India Tourism & Travel Information
Jagjeet Hotel, Mirik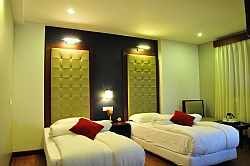 With a modest beginning in the year 1980, today with over two decades of experience in the holiday & hospitality sector Hotel Jagjeet blendes a warm personalized service with luxury to create dream holidays in this enchanting Himalayan town.
Kurseong became home to a retired Sikh gentleman S. Kesar Singh Bindra in the year 1969. He dreamt to make it big in this small town which was then the road to Darjeeling for all travellers.
What started was the Amarjeet Restaurant which boosted of hot Samosas and Gulab Jamuns in the foggy winters of Kurseong. In an unfortunate accident in the year 1979 the restaurant got burnt leading to the desperate efforts of re-establishment and expansions. That was the time when Mr. Surjeet Singh Bindra, the son of Mr. Kesar Singh Bindra decided to construct a hotel in the new and upcoming destination of "Mirik".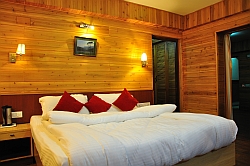 Mirik had been projected by Mr. Siddhartha Shankar Ray, the Honourable Chief Minister of Bengal, as a new destination in the hills of Darjeeling and the government had its master plans ready for the development of Mirik. With lot of difficulties we were among the selected few to receive the permission to construct a structure in the present hotel premises. "Hotel Jagjeet" came into existence and extending further the restaurant was completed in a record time of three months. It was inaugurated on 26th September 1980 and has been a pioneer of multi-cuisine specialities to suit everyone's tastes and desires. Located just at a stone throwing distance away from the Mirik's famous Sumendu Lake the hotel has been providing the best accommodations and services. The next generation of Bindra's manage the hotel with utmost care and spirit to ensure a memorable stay for every visitor.
We welcome you all to sense the Magic of Mirik with our warm hospitality and care.
Facilities
A twenty four-hour running hot and cold water.
Telephone and Colour TV in all rooms.
A spacious lounge and safe car park.
Travel desk for transport and sightseeing.
Laundry services.
Doctor on call.
No black out nightmares- a back-up generator in service.
Conference Room
A complete conference and banquet hall (accommodating 50 to 100 people) for all major needs, the hotel could also play a perfect host for any group requirements. With special audio visual arrangement a spacious kitchen is also available for travel agents who come along with their own catering.
This place is also called as the 'queen of the hills'. This place is invariably a paradise for nature lovers and adventure seekers.
Kaziranga National Park is a Oldest and the most famous sanctuary in Assam bounded by the Brahmaputra river and the Mikir hills in the Golaghat...
Sundarban spreading over an area of 4, 120 square kilometers including water was measured to be 16,000 square kilometers some 200 years ago
Welcome to Visit North East North East Part of India is a travellers delight. North East India consists Indian states of Assam, Manipur, Meghalaya, Mizoram, Nagaland, Tripura, Arunachal Pradesh, Sikkim & West Bengal. Although West Bengal is officialy is not a part of North East India, but is the gateway of accessing Read More
Nathu La Nathu La pass is situated around 60 kilometers from Gangtok at an altitude of 4,310 meters / 14,140 feet. The road to Nathu La passes through the Tsomgo Lake is nearly 2 hours drive. The terms 'Nathu' and 'La' literally mean listening ears and pass respectively in Tibetan language. In 1961, Read More
Tsomgo Lake Tsomgo Lake or Changu Lake is famous tourist an attraction in Sikkim is nearly 42 kilometers from the state capital Gangtok. It is situated at an altitude of nearly 3780 meters / 12,400 feet. The Lake known as The Source of the Lake in Bhutia dialect is ideally located near the Nathu La pass. The lake Read More
Out Standing hotel Prices
Book Through us
Call for Assistance
+91 973 353 3000
Mail us at
infomarinetoalpine.com
All Rights Reserved
[Visit North East]
. Best viewed with Google Chrome in 1024x768 pixels or above resolution.