info
visitnortheast.com
+91 973 353 3000
Visit
North East
North East India Tourism & Travel Information
Kaziranga National Park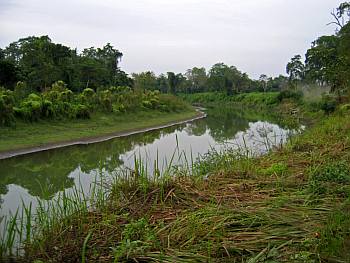 Kaziranga National Park is a Oldest and the most famous sanctuary in Assam bounded by the Brahmaputra river and the Mikir hills in the Golaghat and Nagaon district. Kaziranga National Park sprawls into 430 sq kms of sheer thick forest, elephant grasslands, rugged reeds, mellow marshes and the shallow pools. A World heritage site, the park hosts two-thirds of the world's great One Horned Rhinoceros.
From the Howdah (seat in the back) of an Elephant, you encounter the majesties of the jungles here. You can also stroll through the lush coffee and rubber plantations of nearby Karbi Anglong, or visit the villages and talk to the Karbi people of romp through the fascinating tea gardens and watch how you get your daily cup of tea. Film shows on wild life are also arranged at the tourist lodge on request. The best season to visit the National Park is from October through to mid April.
The National Highway 37 passes through the park area and tea estates, hemmed by table-top tea bushes. One can even see the rhinos and wild elephants straying near the highway.
The means of travel inside the park is on the back of trained elephants with mahout guides, or in Jeep or 4WD vehicles. Most rides are booked in advance and depart from the Park Administrative Centre in Kohora. The Park has three tourist routes under the jurisdiction of three Ranges — Kohora, Bagori and Agaratoli. These roads are open to light vehicles from November to mid May.
The park remains closed from mid-April to mid-October due to monsoon. Visitors willing to view wild life by motorcars are guided through these roads by the staff of this department. The visitors are allowed to take in their own vehicles; however no visitor is allowed to enter the park without an accompanying representative of the forest department. Observation towers are situated at Sohola, Mihimukh, Kathpara, Foliamari and Harmoti for spotting wildlife. Wildlife watching, including birding is the main activity inside the park.
Viewing the scenic landscape of the park with different vegetation types interspersed with numerous beels and the snow covered mountains of Himalayas at a distance constitute other attractions. Hiking in the park is not allowed taking into consideration the large number of potentially dangerous wild animals. An interpretation centre is being set up at the Bagori range of Kaziranga, to help the visitors; tourists know everything about the park.
To Reach
By AIR: Nearest airport is Jorhat at a distance of 98 kms. Another airport Guwahati is situated at a distance of 217 kms.
By Road: Regular bus service is available from Guwahati, Nagaon, Tezpur etc, through NH 37.
Temperature
Summer : 180C – 350C, Winter : 70C – 240C
Wildlife to Be Seen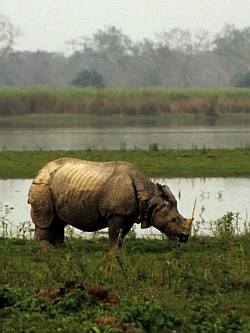 Kaziranga Natioanl Park is famous for -


Indian Elephant
Indian Bison
Swamp Deer
Sambar Deer
Hog Deer
Indian Tiger
Leopard
Sloth Bear
Leopard Cat
Hog
Badger
Capped Languor
Hillock Gibbon
Jackal
Porcupine
Python
and a variety of birds includes –
Pelicans
Ducks
Hornbills
Ibis
Cormorants
Egrets
Herow
Black Necked Strokes
Lesser Adjutants
Ring-Tailed Fishing Eagles
Above all the famous One Horned Indian Rhinos. Once almost extinct this endangered species are being increased steadily. They number now over 400.
Tags: kaziranga, national, park
This place is also called as the 'queen of the hills'. This place is invariably a paradise for nature lovers and adventure seekers.
Kaziranga National Park is a Oldest and the most famous sanctuary in Assam bounded by the Brahmaputra river and the Mikir hills in the Golaghat...
Sundarban spreading over an area of 4, 120 square kilometers including water was measured to be 16,000 square kilometers some 200 years ago
Welcome to Visit North East North East Part of India is a travellers delight. North East India consists Indian states of Assam, Manipur, Meghalaya, Mizoram, Nagaland, Tripura, Arunachal Pradesh, Sikkim & West Bengal. Although West Bengal is officialy is not a part of North East India, but is the gateway of accessing Read More
Nathu La Nathu La pass is situated around 60 kilometers from Gangtok at an altitude of 4,310 meters / 14,140 feet. The road to Nathu La passes through the Tsomgo Lake is nearly 2 hours drive. The terms 'Nathu' and 'La' literally mean listening ears and pass respectively in Tibetan language. In 1961, Read More
Tsomgo Lake Tsomgo Lake or Changu Lake is famous tourist an attraction in Sikkim is nearly 42 kilometers from the state capital Gangtok. It is situated at an altitude of nearly 3780 meters / 12,400 feet. The Lake known as The Source of the Lake in Bhutia dialect is ideally located near the Nathu La pass. The lake Read More
Out Standing hotel Prices
Book Through us
Call for Assistance
+91 973 353 3000
Mail us at
infovisitnortheast.com
All Rights Reserved
[Visit North East]
. Best viewed with Google Chrome in 1024x768 pixels or above resolution.