info
marinetoalpine.com
+91 973 353 3000
Visit
North East
North East India Tourism & Travel Information
Majuli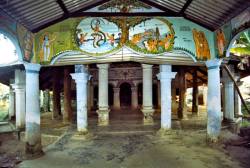 Majuli perhaps the largest River island in the world nestles in the lap of the mighty Brahmaputra River in Assam in India. Majuli is located at a distance of approx 20kms from Jorhat City. The island is rich in cultural and natural heritage. Majuli is a paradise for bird watchers. The bird life is varied in Majuli.
There are twenty-one Satras on the island - several of them still very active in the tradition and training of dance, drama, music, art and craft. You can hire a boat and cruise down the river in the early morning, bird-watching; and also visit fields and homes to see the cultivation and weaving for yourself first hand of the tribes. Majuli has emerged as the crowning glory of Vaishnavite culture in Assam.
Multifaceted in its attraction, Majuli unfolds a vanity of interest to the tourist - Rare migratory birds, traditional handicrafts and pottery, ethnic culture and dance forms, water sports etc. Hand-loom is a major occupation among the distaff population of the villages. Although largely a non-commercial occupation, it keeps many of the inhabitants occupied. Weaving is exquisite and intricate with the use of a variety of colours and textures of cotton and silk, especially Muga Silk
Majuli, the heart of the mighty Brahmaputa River, is full of different types of plants and animals. It's vast faunal wealth covers more than 100 species of birds and more than 20 reptiles, more than 20 mammals 1000 of insects and lesser forms, nearly 100 types of local fish.
According to the reports of Mr. J. H. Mills in 1853 the total area of Majuli was 2,82, 165 acre, but to strong erosion of the river Brahmaputra it has been gradually decreasing and the present area is less than 880 sq kms.
Best Time to Visit
The best time to visit Majuli is to coincide with the 'Rasleela', at the time of the full moon in the month of Kartik (November); but Majuli can be visited all year around. During the rainy season much of the island is flooded, but ironically, it makes getting around (by boat) easier.
How to Visit
Majuli is situated at a distance of 20 km from Jorhat. One can take the bus or a hired taxi to the Nimati Steamer Ghat from where ferry services ply. The distance takes over three hours to cover, with three bus rides and two ferry rides.
This place is also called as the 'queen of the hills'. This place is invariably a paradise for nature lovers and adventure seekers.
Kaziranga National Park is a Oldest and the most famous sanctuary in Assam bounded by the Brahmaputra river and the Mikir hills in the Golaghat...
Sundarban spreading over an area of 4, 120 square kilometers including water was measured to be 16,000 square kilometers some 200 years ago
Welcome to Visit North East North East Part of India is a travellers delight. North East India consists Indian states of Assam, Manipur, Meghalaya, Mizoram, Nagaland, Tripura, Arunachal Pradesh, Sikkim & West Bengal. Although West Bengal is officialy is not a part of North East India, but is the gateway of accessing Read More
Nathu La Nathu La pass is situated around 60 kilometers from Gangtok at an altitude of 4,310 meters / 14,140 feet. The road to Nathu La passes through the Tsomgo Lake is nearly 2 hours drive. The terms 'Nathu' and 'La' literally mean listening ears and pass respectively in Tibetan language. In 1961, Read More
Tsomgo Lake Tsomgo Lake or Changu Lake is famous tourist an attraction in Sikkim is nearly 42 kilometers from the state capital Gangtok. It is situated at an altitude of nearly 3780 meters / 12,400 feet. The Lake known as The Source of the Lake in Bhutia dialect is ideally located near the Nathu La pass. The lake Read More
Out Standing hotel Prices
Book Through us
Call for Assistance
+91 973 353 3000
Mail us at
infomarinetoalpine.com
All Rights Reserved
[Visit North East]
. Best viewed with Google Chrome in 1024x768 pixels or above resolution.