info
marinetoalpine.com
+91 973 353 3000
Visit
North East
North East India Tourism & Travel Information
Panchavati Forest Resort, Lataguri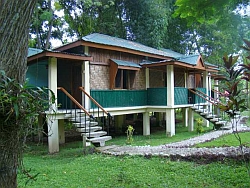 Panchavati Forest Resort is one of the better accommodations in Lataguri, situated adjacent to Gorumara Wildlife Sanctuary. We have a large ground and a restaurant. The refreshing greens all over, clean air and the placid environ give a real feel of nature. We have few traditionally decorated cottages and four and eight bedded family rooms with latest modern amenities of living, living room of each being covered with wall to wall mattress and attached bathroom, geyser & observatory balcony. There is an open-air restaurant, a lawn with a well-maintained garden and children's park at the resort. An ideal place to explore the wilderness of Gorumara, Chapramari and Jaldapara
We have few traditionally decorated cottages and family rooms with latest modern amenities of living, living room of each being covered with wall to wall mattress and attached bathroom, geyser & observatory balcony.
Facilities
Conference Hall
Exuberant Children's corner
Colour TV with Tata sky servise
Running water (round the clock)
Day n Night Jungle Safari
Free driver accommodation
Trained Forest Guide
Telephone
Car Parking
24-hrs security
Doctor on call
Car on rental
Geyser
Laundry
Room Service
Jungle Library
Travel Desk
This place is also called as the 'queen of the hills'. This place is invariably a paradise for nature lovers and adventure seekers.
Kaziranga National Park is a Oldest and the most famous sanctuary in Assam bounded by the Brahmaputra river and the Mikir hills in the Golaghat...
Sundarban spreading over an area of 4, 120 square kilometers including water was measured to be 16,000 square kilometers some 200 years ago
Welcome to Visit North East North East Part of India is a travellers delight. North East India consists Indian states of Assam, Manipur, Meghalaya, Mizoram, Nagaland, Tripura, Arunachal Pradesh, Sikkim & West Bengal. Although West Bengal is officialy is not a part of North East India, but is the gateway of accessing Read More
Nathu La Nathu La pass is situated around 60 kilometers from Gangtok at an altitude of 4,310 meters / 14,140 feet. The road to Nathu La passes through the Tsomgo Lake is nearly 2 hours drive. The terms 'Nathu' and 'La' literally mean listening ears and pass respectively in Tibetan language. In 1961, Read More
Tsomgo Lake Tsomgo Lake or Changu Lake is famous tourist an attraction in Sikkim is nearly 42 kilometers from the state capital Gangtok. It is situated at an altitude of nearly 3780 meters / 12,400 feet. The Lake known as The Source of the Lake in Bhutia dialect is ideally located near the Nathu La pass. The lake Read More
Out Standing hotel Prices
Book Through us
Call for Assistance
+91 973 353 3000
Mail us at
infomarinetoalpine.com
All Rights Reserved
[Visit North East]
. Best viewed with Google Chrome in 1024x768 pixels or above resolution.