info
visitnortheast.com
+91 973 353 3000
Visit
North East
North East India Tourism & Travel Information
Seven Hills Resort, Namchi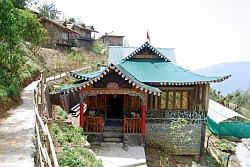 Wish to run away from the scorching heat and enjoy nature at its best ? Rush to the Kaleidoscopic land of Phalidara, a place of divine beauty that will mesmerize your senses, an enchanting place that overlooks NAMCHI in the most splendid form. Lying pretty in the picturesque slop of Phalidara is SEVEN HILLS RES0RT A winding, climbing road through the trees lead to twelve exotic cottages set serenely on the slopes of Phalidara The resort spreads out over 6 acres with twelve traditionally designed cottages set amidst landscaped greenery. The cottages look out to a spectacular view of beaming Namchi with Darjeeling shining With its utmost beauty in the background. The other beauty includes Samdruptse, Rock Garden, Helipad, Solophok which can be viewed from your private balcony without any disturbance. A feast for the sore eyes is the majestic sunset and the breathtaking view of Mt. Kanchendzonga.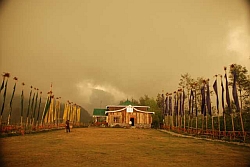 Inspired by the ethnic architecture, an open and spacious hall cith modem kitchen, serving vegetarian and non-Vegetarian cuisine adds to the beauty of the esort. Tempt your palate with some of the finest cuisine blend with characteristic warmth, riendliness and hospilitality. You have wide choice of cuisine delights - Sikkjmese, Chinnese, Indian and various others. The taste of local wine made out of local fruit will tempt your taste buds. Own organically grown Kitchen Garden makes fresh vegetables easily available, to that you can pick the vegetable of your choice and have them cooked. As you get lost into the creative cuisine, watch the local traditional music of Sikkim.
Facilities
Restaurants Bar.
Ample Car Parking.
STD/1SD & Internet facility
CCTV in every rooms.
Indoor/Outdoorgames.
Lawns for recreation.
Conference Hal.
Car Rental.
Laundry Service.
Doctor on call.
In house Travel Desk.
Room Service.
Evening cultural Programme (on Demand).
Library.
Safety Locker facility.
Nature Walk.
Bird Watching.
Beauty Parlor.
Saloon.
Curio shop.
View Point.
Horse Raiding.
Traditional wine House.
Seven Hills Nursery.
E.P.A.B.X.
This place is also called as the 'queen of the hills'. This place is invariably a paradise for nature lovers and adventure seekers.
Kaziranga National Park is a Oldest and the most famous sanctuary in Assam bounded by the Brahmaputra river and the Mikir hills in the Golaghat...
Sundarban spreading over an area of 4, 120 square kilometers including water was measured to be 16,000 square kilometers some 200 years ago
Welcome to Visit North East North East Part of India is a travellers delight. North East India consists Indian states of Assam, Manipur, Meghalaya, Mizoram, Nagaland, Tripura, Arunachal Pradesh, Sikkim & West Bengal. Although West Bengal is officialy is not a part of North East India, but is the gateway of accessing Read More
Nathu La Nathu La pass is situated around 60 kilometers from Gangtok at an altitude of 4,310 meters / 14,140 feet. The road to Nathu La passes through the Tsomgo Lake is nearly 2 hours drive. The terms 'Nathu' and 'La' literally mean listening ears and pass respectively in Tibetan language. In 1961, Read More
Tsomgo Lake Tsomgo Lake or Changu Lake is famous tourist an attraction in Sikkim is nearly 42 kilometers from the state capital Gangtok. It is situated at an altitude of nearly 3780 meters / 12,400 feet. The Lake known as The Source of the Lake in Bhutia dialect is ideally located near the Nathu La pass. The lake Read More
Out Standing hotel Prices
Book Through us
Call for Assistance
+91 973 353 3000
Mail us at
infovisitnortheast.com
All Rights Reserved
[Visit North East]
. Best viewed with Google Chrome in 1024x768 pixels or above resolution.