info
visitnortheast.com
+91 973 353 3000
Visit
North East
North East India Tourism & Travel Information
Silk Route Retreat, Pedong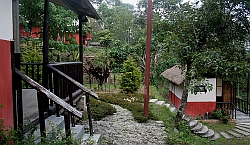 Pedong is a nature – lovers delight with its rivers, mountains, snow peaks, beautiful forests, birds, butterflies, all with a beautiful blend of a unique culture. You will have a wonderful opportunity to explore and learn a lot from this land where simplicity is the way of life.
Rustic & Real, that is our U.S.P and we follow it in our service and outlook. Ours is a property that is unsophisticated, simple & natural. As you enter the retreat, you are greeted by a warm reception which leads you below to a rustic restaurant with inside and outside seating which further leads you to well spread out cottages laid amidst natural surroundings. Our team comprises of young gentlemen and ladies, all of whom are local and a motivated lot, always there when you need them. For most, with the surrounding environment, the ambiance is that of a serene, natural and a tranquil one.
So, Yes! We are peaceful, serene, natural and tranquil like everyone else in the region BUT we also know how to entertain. Holidays are meant to be fun and entertaining! That is why our constant effort is to come up with innovative ideas to enrich your experience. After all, an experience is what you cherish the most. So, with that in mind, if your day is calm and beautiful with the sights and scenes of the eastern Himalayas, your evenings can be exotic, fun and thrilling with Campfires, Live Barbecues, Fire Breathers and Music & Dance.
Facilities
Our Cottages are individual structures with a room and bathroom and plenty of privacy.
Standard rooms are smaller and are within the main property area near to the restaurant.
All rooms come with bath/toilet and geysers for hot water.
All rooms come with basic power back-up.
Room service provided to all.
All of our rooms can be considered view rooms as we are not a typical building hotel.
Food is something that we keep very close to the heart.
Our In house BAR AND RESTUARANT serves a cuisine unique to itself.
We love experimenting with food and are always eager to come up with something new.
So there would be quite a few things in the menu which you would have never found in any other.
Other than food and drinks, we also serve flavored HOOKAHS at the Restaurant.
CAMPFIRES- Are provided to all on request.
BARBECUE- We have the most mouthwatering recipe for it. Provided on min 7hrs prior request.
DANCE FLOOR- Clear the restaurant a little and we have a dance floor with Good Sound, Low lighting and Virtual DJ to blast your socks off.
HOOKAHS – Flavored Hookahs at the Restaurant make for some chill time.
FIREBREATHER- Let us know if want some thrill and we shall blow some fire in front of you.
CAKES- If there's a birthday or an anniversary; a cake can be arranged on prior notification.
CANDLELIGHT DINNERS – We can arrange for the romantic as well.
All kinds of transport arrangements made from the hotel.
Pick up and Drop to the airport or station provided on prior notification.
Arrangement for local sightseeing.
This place is also called as the 'queen of the hills'. This place is invariably a paradise for nature lovers and adventure seekers.
Kaziranga National Park is a Oldest and the most famous sanctuary in Assam bounded by the Brahmaputra river and the Mikir hills in the Golaghat...
Sundarban spreading over an area of 4, 120 square kilometers including water was measured to be 16,000 square kilometers some 200 years ago
Welcome to Visit North East North East Part of India is a travellers delight. North East India consists Indian states of Assam, Manipur, Meghalaya, Mizoram, Nagaland, Tripura, Arunachal Pradesh, Sikkim & West Bengal. Although West Bengal is officialy is not a part of North East India, but is the gateway of accessing Read More
Nathu La Nathu La pass is situated around 60 kilometers from Gangtok at an altitude of 4,310 meters / 14,140 feet. The road to Nathu La passes through the Tsomgo Lake is nearly 2 hours drive. The terms 'Nathu' and 'La' literally mean listening ears and pass respectively in Tibetan language. In 1961, Read More
Tsomgo Lake Tsomgo Lake or Changu Lake is famous tourist an attraction in Sikkim is nearly 42 kilometers from the state capital Gangtok. It is situated at an altitude of nearly 3780 meters / 12,400 feet. The Lake known as The Source of the Lake in Bhutia dialect is ideally located near the Nathu La pass. The lake Read More
Out Standing hotel Prices
Book Through us
Call for Assistance
+91 973 353 3000
Mail us at
infovisitnortheast.com
All Rights Reserved
[Visit North East]
. Best viewed with Google Chrome in 1024x768 pixels or above resolution.