info
visitnortheast.com
+91 973 353 3000
Visit
North East
North East India Tourism & Travel Information
The Dewachen Retreat, Gangtok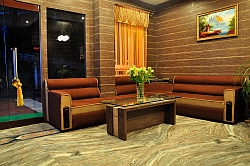 Our organization follows some basic values or ethics and we are no exception. We try to abide by the values and ethics strictly. This is our business philosophy that guides our behavior. Our understanding and respecting the laws, the values and the cultures wherever we do business has made things easier for us. We promote a healthy business climate globally. No matter however busy we are but we do not compromise on product quality and the service. We try to deliver more than what is mentioned or promised. Sikkim is a peace loving state and we try to enhance the beauty of the state through our sincere effort.
We try to incorporate the views of customers. One can find them incorporated in our products and services. Dewachen Retreat is now increasingly going green and moving towards an environment friendly approach towards business.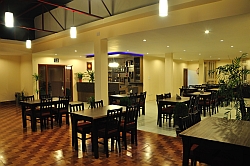 The Rest-o-Bar
The attraction - straight from the heart is our Rest O Bar. The restaurant has brought culinary variations bridging contemporary and traditional cuisines to serve Tandoori and typical Punjabi dishes, that's what we are known for. It's a perfect destination with drinks and elegant food. Authentic Tandoori and Punjabi dishes are our specialty.
Facilities
Elegant Rooms.
EPABX Service.
Doctor on call.
Spacious Lounge.
Laundry services.
Travel Desk.
Conference Hall.
Audio Video Facility.
Telephone and CCTV in all rooms.
Spacious lounge and safe car park.
24 hour's running hot and cold water.
Arrangement for transport and sightseeing.
Own Car Parking Area ( Rare in Gangtok).
The hall has a separate kitchen for open air cooking.
U Shaped Conference/Seminar/Workshop - for 60 PAX.
Theatre Style Seminar/Conference/Workshop - for 150 PAX.
Cluster Style Seminar/Conference/Workshop - for 80 PAX.
No black out or nightmares - a back up inverter in service.
This place is also called as the 'queen of the hills'. This place is invariably a paradise for nature lovers and adventure seekers.
Kaziranga National Park is a Oldest and the most famous sanctuary in Assam bounded by the Brahmaputra river and the Mikir hills in the Golaghat...
Sundarban spreading over an area of 4, 120 square kilometers including water was measured to be 16,000 square kilometers some 200 years ago
Welcome to Visit North East North East Part of India is a travellers delight. North East India consists Indian states of Assam, Manipur, Meghalaya, Mizoram, Nagaland, Tripura, Arunachal Pradesh, Sikkim & West Bengal. Although West Bengal is officialy is not a part of North East India, but is the gateway of accessing Read More
Nathu La Nathu La pass is situated around 60 kilometers from Gangtok at an altitude of 4,310 meters / 14,140 feet. The road to Nathu La passes through the Tsomgo Lake is nearly 2 hours drive. The terms 'Nathu' and 'La' literally mean listening ears and pass respectively in Tibetan language. In 1961, Read More
Tsomgo Lake Tsomgo Lake or Changu Lake is famous tourist an attraction in Sikkim is nearly 42 kilometers from the state capital Gangtok. It is situated at an altitude of nearly 3780 meters / 12,400 feet. The Lake known as The Source of the Lake in Bhutia dialect is ideally located near the Nathu La pass. The lake Read More
Out Standing hotel Prices
Book Through us
Call for Assistance
+91 973 353 3000
Mail us at
infovisitnortheast.com
All Rights Reserved
[Visit North East]
. Best viewed with Google Chrome in 1024x768 pixels or above resolution.