info
marinetoalpine.com
+91 973 353 3000
Visit
North East
North East India Tourism & Travel Information
Agnigarh Hill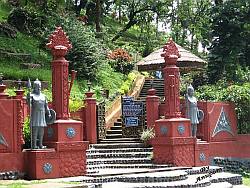 Agnigarh is a hillock located in Tezpur in the North East Indian state of Assam. It is the site of the fortress which was built by Banasura to keep his daughter Usha in isolation. Legend has it that this fortress was surrounded by fire at all times so that nobody could go in or out of the perimeter without permission. Usha fell in love with Aniruddha in her dreams not knowing who he was. Agnigarh is a living testimony of the immortal love between Princess Usha and Prince Aniruddha, grandson of Lord Krishna.
Present day Agnigarh is a hill on the right bank of Brahmaputra River. From the hilltop the entire view of the city can be viewed along with the magnificent view of the kolia Bhomora Bridge on River Brahmaputra.
This place is also called as the 'queen of the hills'. This place is invariably a paradise for nature lovers and adventure seekers.
Kaziranga National Park is a Oldest and the most famous sanctuary in Assam bounded by the Brahmaputra river and the Mikir hills in the Golaghat...
Sundarban spreading over an area of 4, 120 square kilometers including water was measured to be 16,000 square kilometers some 200 years ago
Welcome to Visit North East North East Part of India is a travellers delight. North East India consists Indian states of Assam, Manipur, Meghalaya, Mizoram, Nagaland, Tripura, Arunachal Pradesh, Sikkim & West Bengal. Although West Bengal is officialy is not a part of North East India, but is the gateway of accessing Read More
Nathu La Nathu La pass is situated around 60 kilometers from Gangtok at an altitude of 4,310 meters / 14,140 feet. The road to Nathu La passes through the Tsomgo Lake is nearly 2 hours drive. The terms 'Nathu' and 'La' literally mean listening ears and pass respectively in Tibetan language. In 1961, Read More
Tsomgo Lake Tsomgo Lake or Changu Lake is famous tourist an attraction in Sikkim is nearly 42 kilometers from the state capital Gangtok. It is situated at an altitude of nearly 3780 meters / 12,400 feet. The Lake known as The Source of the Lake in Bhutia dialect is ideally located near the Nathu La pass. The lake Read More
Out Standing hotel Prices
Book Through us
Call for Assistance
+91 973 353 3000
Mail us at
infomarinetoalpine.com