info
marinetoalpine.com
+91 973 353 3000
Visit
North East
North East India Tourism & Travel Information
Hotel Amarjeet, Kurseong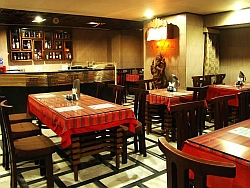 Kurseong became home to a retired Sikh gentleman S. Kesar Singh Bindra in the year 1969. He dreamt to make it big in this small town which was then the road to Darjeeling for all travellers.
What started as Amarjeet Restaurant which boosted of hot Samosas and Gulab Jamuns in the foggy winters of Kurseong ; now stands tall as The Amarjeet Hotel
Located 500mts from Kurseong railway station (one of the oldest in the world) this hotel is strategically placed giving every room a spectacular and unique view which nature unfolds every minute in the serene and calm atmosphere. Be it the oldest steam engines or the lovely valley cascaded with tea gardens, or just a view of the town life with Nepalis doing their daily chores, every view is a treat for the eyes of a metro resident.
Food is only second in nature to any Punjabi; this statement gets re-iterated at The Amarjeet Hotel. The restaurant here has the finest Punjabi cuisine that anyone can come across even when compared to the best restaurants in The Punjab. The Dal Makhani and Tandoori Chicken can be highlighted as the signature dishes which one should not miss. The Chinese dishes too have attracted many travelers' palettes.
Facilities
Eco Tour Facility for adventurous trekking and sight scene.
Credit Cards acceptable
Cable Tv in all rooms (LCDs in Queen Deluxe and King Deluxe Rooms)
Telephones with Intercom in all Rooms
Room Service (From 7 Am – 9 Pm)
Travel Desk
Punjabi Restaurant (Indian and Chinese) with Bar
No Blackouts (Backup Generator and Inverter in service)
Doctor on Call
Room Heater on Request
Parking Arrangements
This place is also called as the 'queen of the hills'. This place is invariably a paradise for nature lovers and adventure seekers.
Kaziranga National Park is a Oldest and the most famous sanctuary in Assam bounded by the Brahmaputra river and the Mikir hills in the Golaghat...
Sundarban spreading over an area of 4, 120 square kilometers including water was measured to be 16,000 square kilometers some 200 years ago
Welcome to Visit North East North East Part of India is a travellers delight. North East India consists Indian states of Assam, Manipur, Meghalaya, Mizoram, Nagaland, Tripura, Arunachal Pradesh, Sikkim & West Bengal. Although West Bengal is officialy is not a part of North East India, but is the gateway of accessing Read More
Nathu La Nathu La pass is situated around 60 kilometers from Gangtok at an altitude of 4,310 meters / 14,140 feet. The road to Nathu La passes through the Tsomgo Lake is nearly 2 hours drive. The terms 'Nathu' and 'La' literally mean listening ears and pass respectively in Tibetan language. In 1961, Read More
Tsomgo Lake Tsomgo Lake or Changu Lake is famous tourist an attraction in Sikkim is nearly 42 kilometers from the state capital Gangtok. It is situated at an altitude of nearly 3780 meters / 12,400 feet. The Lake known as The Source of the Lake in Bhutia dialect is ideally located near the Nathu La pass. The lake Read More
Out Standing hotel Prices
Book Through us
Call for Assistance
+91 973 353 3000
Mail us at
infomarinetoalpine.com