info
marinetoalpine.com
+91 973 353 3000
Visit
North East
North East India Tourism & Travel Information
Hotel Seven Seventeen, Darjeeling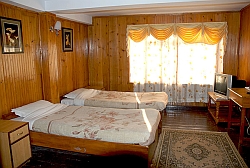 Hotel Seven Seventeen in Darjeeling – A traditional Tibetan family blessed by the lord almighty or how else can you explain that each family members are born or passed away on the 7th or 17th of any month of the Gregorian calendar, hence the name Seven Seventeen. Some say its luck but luck doesn't repeat.
In the land where the environment is as diverse as the culture, and light plays hide and seek with shadow / clouds, it comes as a breath of a fresh air to have a package designed specially for you. You will be plied with hospitality; you will feel homely, calm, green and just right for unwinding. The packages will include lavish buffets / food, drinks, polite, welcoming staff and all sorts of facilities. You can even design your own holiday. Simply pick any destination, anytime of the year and leave the rest to us. We will familiarize you with the local area, language, shopping and other key aspects.
Facilities
Spacious well furnished rooms.
Laundry Service
All rooms with wall to wall carpeting
Wooden parquet flooring.
All rooms with Telephone.
Room service.
In-house generator.
Travel Agency
Doctor / Massager on call
Centrally located (5 minutes walk from taxi stand and the Mall)
All rooms with CRT / LCD TVs with Cable TV facility.
Foreign Exchange counters
Secretarial Service on request
ISD/STD phone facility available
FREE WI-FI in Lobby and Restaurant.
All rooms with attached bathrooms and shower running hot & cold water.
Kadambari Bar
Should you be partial to raise your spirits, we welcome you to our well-stocked Kadambari Bar to sample our drinks
Gift Shoppe
If you are looking forward to take homelocal souvenirs and memorabilia you need look no further than our own Gift Shoppe!
This place is also called as the 'queen of the hills'. This place is invariably a paradise for nature lovers and adventure seekers.
Kaziranga National Park is a Oldest and the most famous sanctuary in Assam bounded by the Brahmaputra river and the Mikir hills in the Golaghat...
Sundarban spreading over an area of 4, 120 square kilometers including water was measured to be 16,000 square kilometers some 200 years ago
Welcome to Visit North East North East Part of India is a travellers delight. North East India consists Indian states of Assam, Manipur, Meghalaya, Mizoram, Nagaland, Tripura, Arunachal Pradesh, Sikkim & West Bengal. Although West Bengal is officialy is not a part of North East India, but is the gateway of accessing Read More
Nathu La Nathu La pass is situated around 60 kilometers from Gangtok at an altitude of 4,310 meters / 14,140 feet. The road to Nathu La passes through the Tsomgo Lake is nearly 2 hours drive. The terms 'Nathu' and 'La' literally mean listening ears and pass respectively in Tibetan language. In 1961, Read More
Tsomgo Lake Tsomgo Lake or Changu Lake is famous tourist an attraction in Sikkim is nearly 42 kilometers from the state capital Gangtok. It is situated at an altitude of nearly 3780 meters / 12,400 feet. The Lake known as The Source of the Lake in Bhutia dialect is ideally located near the Nathu La pass. The lake Read More
Out Standing hotel Prices
Book Through us
Call for Assistance
+91 973 353 3000
Mail us at
infomarinetoalpine.com