info
marinetoalpine.com
+91 973 353 3000
Visit
North East
North East India Tourism & Travel Information
Juniper Tree Hotel, Gangtok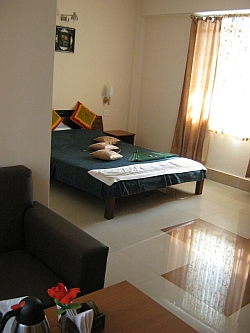 Juniper Tree, the hotel is situated in the heart of Gangtok city, Sikkim and is devoted to the hospitality principle i.e. guest satisfaction. We believe that everyone deserves affordable and quality accommodation when on tour. To develop a relation with our guests, we strive for excellence in everything we do. We have a set up, which combine old world charm and modern comfort in each of the beautifully decorated rooms. We also have some very special packages tailored to treat you and your loved ones.
Our Hotel is conveniently located near public transportation, tourist attractions, and restaurants and is just five minutes walk from the bustling M.G.Marg and it still gives a sense of being away from it all. The secured, private, calm and quiet atmosphere of the Hotel provides a clean and comfortable environment at reasonable rates for our guests. All rooms are newly designed and furnished. We offer decent rooms and restaurant which offers a choice of delectable cuisine. We always try creating a work culture that is useful for our esteemed guests. We pick up ideas in response to daily feedback from customers, try to get an exact grasp of customer needs and have developed a craving to please our guests
Guests of our hotel have the assurance of friendly and highly professional staff. This is combined with the advantage of all modern amenities in rooms and comfort, throughout the stay.
To add more to hotel amenities and services at any of our hotel at Sikkim, the restaurant of the hotel will be open for guests. Our restaurant is known for its food. Hygienic, traditional, mouth watering dishes, multicuisine, traditional delicacies, north Indian, Punjabi, Bengali and South Indian are some of the various types of dishes available. The restaurant has a wide range of dishes and is a place where you can spend your leisure. You can also dine at the restaurants of nearby area and we will recommend it if asked for.
Facility
24 hour room service / Dedicated support team
Express laundry / Dry cleaning
Free safe deposit locker
Travel assistance / Car rental
Car parking facilities
Doctor on call
Wakeup Service
Multichannel Satellite color TV
24 hours running water (warm and cold)
24 hours electricity / Power backup
Restaurant
Roof Top Lobby / Conference hall (25 PAX)
Travel Desk
EPABX facility
This place is also called as the 'queen of the hills'. This place is invariably a paradise for nature lovers and adventure seekers.
Kaziranga National Park is a Oldest and the most famous sanctuary in Assam bounded by the Brahmaputra river and the Mikir hills in the Golaghat...
Sundarban spreading over an area of 4, 120 square kilometers including water was measured to be 16,000 square kilometers some 200 years ago
Welcome to Visit North East North East Part of India is a travellers delight. North East India consists Indian states of Assam, Manipur, Meghalaya, Mizoram, Nagaland, Tripura, Arunachal Pradesh, Sikkim & West Bengal. Although West Bengal is officialy is not a part of North East India, but is the gateway of accessing Read More
Nathu La Nathu La pass is situated around 60 kilometers from Gangtok at an altitude of 4,310 meters / 14,140 feet. The road to Nathu La passes through the Tsomgo Lake is nearly 2 hours drive. The terms 'Nathu' and 'La' literally mean listening ears and pass respectively in Tibetan language. In 1961, Read More
Tsomgo Lake Tsomgo Lake or Changu Lake is famous tourist an attraction in Sikkim is nearly 42 kilometers from the state capital Gangtok. It is situated at an altitude of nearly 3780 meters / 12,400 feet. The Lake known as The Source of the Lake in Bhutia dialect is ideally located near the Nathu La pass. The lake Read More
Out Standing hotel Prices
Book Through us
Call for Assistance
+91 973 353 3000
Mail us at
infomarinetoalpine.com